The Fort:
The Chittorgarh Fort is a living testimony to the bravery of the great Rajput rulers who laid down their life fighting a superior enemy instead of leading a life of submission. The fort is located on a hill that dominates the modern township of Chittor. It is a fine example of the Rajput style of architecture.
Major Attractions:
1. SYMBOL OF VALOR
2. ARCHITECTURE
3. SIEGES
4. LEGENDS
5. THE POLS
6. MONUMENT OF INDIA
Vijay Stambh(Victory Tower):
Vijay Stambh is a huge nine storey tower which was built by Maharana Kumbha to commemorate his victory over the Muslim rulers of Malwa and Gujarat in 1440. The tower is 122 ft high and stands on a 10 ft high base. There are sculptures and carvings on the exterior walls of the tower. The tower is visible from any section of the town below. And from the tower top after climbing 157 steps, there is a great view of the surroundings. The inside walls of the tower are carved with images of Gods, weapons, etc.
Padmini Palace:
It is built beside the lotus pool with a historical pavilion that changed the history of Chittor. Ala-ud-din saw the reflection of Queen Padmini from here and so mesmerized was he, that the quest of possessing her led to a furious battle which saw the last of Maharana Ratan Singh (husband of Maharani Padmini) and the epitome of beauty-Cleopatra of Rajasthan, became an eternal legend in the history of chittor and also of the Mewar state. The feel still lingers on. A thing of beauty is a joy for ever- and now they don't say this for nothing.
Kirti Stambh(Tower of Fame):
The 22 mtr high Tower of fame was built by a wealthy Jain merchant in the 12 century A.D. and is dedicated to Adinathji, the first of the Tirthankaras. The tower is decorated with Jain Pantheons.
Meera & Kumbha Shyam Temple:
The temple where Meera Bai worshipped Lord Krishna is built in north Indian style on a raised plinth with a conical roof and beautiful inner sanctum. An open colonnade around the sanctum has four small pavilions in each corner.Built during the reign of Rana Kumbha in the Indo-Aryan style, the temple is associated with the mystic poetess Meera bai - an ardent Krishna devotee. She was the wife of Prince Bhojraj.
Kalika Mata Mandir: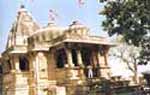 Originally built as a Sun Temple in the 8th century A.D., the temple was later converted into Kalika Mata Temple in the 14th century, dedicated to the mother Goddess Kali- the symbol of power and valor.