Major Tourist Destinations in India
India is a land that attracts tourists from far and away. India always warm and inviting, a place of infinite variety - one that favours you with different facets of its fascination every time you visit India. The exotic mix of tradition with trends, natural beauty and man made wonders makes tourism in India ever so popular. India is the birthplace of many religions and the cradle of ancient civilization. Pilgrimages, adventure spots, cultural destinations, beaches, deserts, backwaters, all make tourism of India an unforgettable experience. Discover the natural wealth of mountains, beaches, rivers and lakes in India. Explore the built heritages and historical monuments in India.
Agra is known, to the world as the city of Taj Mahal. Agra has its roots, dating back to the time of Mahabaratha. Agra is situated on the west-bank of River Yamuna, 204 km south of Delhi. The old part of the town, north of the fort, is where the main market place is. The modern township is on the south. Agra has a magnificent fort and many other monuments from the Mughul era, not to mention the Taj Mahal, which are major attractions to the tourists.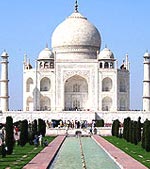 Major Attractions:
1. Taj Mahal India
2. Agra Red Fort
3. Fatehpur Sikri
4. Akbar's Mausoleum, Sikandra
5. Jama Masjid Or Jami Masjid
6. Chini-Ka-Rauza
7. Dayal Bagh Temple
8. Itmad-Ud-Daulah's Tomb
9. Mariyam Tomb
10. Ram Bagh

How to reach:
Agra airport is 7 km from the city center and 3 km from Idgah bus stand. There are daily tourist shuttle flights to Agra, Khajuraho, Varanasi and back from Delhi. It only takes 40 minutes to reach Agra from Delhi by flight.
India's capital city, Delhi is the second most widely used entry point into the country, being on the route of most major airlines. It is well linked by rail, air and road to all parts of the country. The remains of seven distinctive capital cities – among them Shahjahanabad and Qutab Minar – can be seen. Here, museums, art galleries and cultural centers attract the finest exhibitions and performances from India and abroad.

Major Attractions:
1. India Gate
2. Red Fort
3. Purana Qila (Old Fort)
4. Parliament House
5. Jantar Mantar, Delhi
6. Humayun's Tomb
7. Chandni Chowk
8. Akshardham Temple
9. Birla Mandir (Laxmi Narayan Temple)
10. Rashtrapati Bhawan

How to reach:
Delhi is conveniently connected to all the major cities of the world with almost all the major airlines operating out of here. Delhi has two airports catering to domestic and international flights, located 4½ km apart in Palam. The international airport (known as Indira Gandhi International Airport) is situated 20 km from the city center. Taxis and coaches are available.
Goa, also known as 'the pearl of the east', is known for its Gothic churches, age-old ruins, palm-fringed beaches, coconut groves, ferry rides, and bubbly folk music. With its 131-km-long coastline, Goa is an important destination in every tourist's itinerary. Sun, sand and sea being the major attractions, Goa is a perfect heaven for the ones who need and want relaxation.

Major Attractions:
1. Beaches in Goa
2. Goa Museums
3. Churches in Goa
4. Temples in Goa
5. Goa Adventure
6. Goa Wildlife
7. South Goa
8. Goa Carnival
9. Shigmo Festival

How to reach:
Goa's international airport is Dabolim, at a distance of 29 km from Panaji, on the coast near Vasco da Gama. Most domestic airlines operate here apart from the chartered private airlines operating from UK and Germany.
This small state at the southern tip of the Indian peninsula is an easy winner owing to its beautiful landscape, intriguing customs, high-intensity cultural life and an educated public so often dressed in white. From Kasargode to Thiruvananthapuram, the state in choc-a-bloc with places that attract tourists and travellers from all over the world.

Major Attractions:
1. Backwaters
2. Boat Races
3. Hill Stations
4. Pilgrim Centers
5. Arts
6. Festivals
7. Beaches

How to reach:
There are three airports in the state-at Thiruvananthapuram, Kochi, and Kozhikode. Thiruvananthapuram is also an international airport, connecting the state to many places in the Middle East.
Bangalore is the capital city of the southern Indian state of Karnataka. It is the seventh largest city in India. It is also known as the Garden City because of its many beautiful gardens and parks. Though the origin of Bangalore is ancient, the present-day city was founded in the 16th century and has since continued to be an important administrative center. Because of the high concentration of IT industry, it also called the Silicon Valley of India.

Major Attractions:
1. Aquarium
2. Bull Temple
3. Fort & Tippu's Palace
4. Ulsoor Lake
5. Lal Bagh
6. Venkatappa Art Gallery
7. Cubbon Park & Museum

How to reach:
Bangalore is accessible by air, road, and rail. Bangalore Airport is 13 km east of the City Station. There are number of daily flights to important cities like Calcutta, Mumbai, Delhi, Hyderabad, Chennai, Ahmedabad, Goa, Kochi, Mangalore, Pune and Thiruvananthapuram.
Gateway to India & capital of Maharashtra, Mumbai was once a cluster of seven islands called Heptanasia by Plotemy in AD 150. The word Mumbai (locally called) however, is derived from Mumba Devi or Maha Amba Aai, the patron goddess of the kolis or fisherfolk, who have been its original inhabitants.
Major Attractions:
1. Gateway of India
2. Chowpatty Beach
3. Afghan Church
4. Haji Ali Tomb
5. Kamala Nehru Park
6. Malabar Hill
7. Victoria Terminus

How to reach:
Mumbai is India's international gateway. It has also the busiest domestic air network in the country. The international terminal is at Sahar, which is 30 km north of the city center. Prepaid taxis are available from the airports to the downtown.
Ajmer offers a unique blend of Hindu and Muslim harmony that makes it a distinct place in Rajasthan. Since the time immemorial, Ajmer has been an important place for Rajput warriors, Muslim rulers and the Marathas.

Major Attractions:
1. The Dargah
2. Ana Sagar Lake
3. The Museum
4. Pushkar

How to reach:
Buses and taxis are available from Jaipur, Kishangarh, Pushkar and all the other major cities of Rajasthan.
The Pink City of Jaipur enjoys a distinct place among the tourists interested in exploring the cultural and architectural heritage of Rajasthan. Reputed as the third corner of India's "Golden Triangle", it is a flamboyant showcase of Rajput architecture.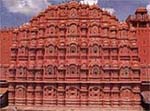 Major Attractions:
1. Amber Palace
2. City Palace
3. Hawa Mahal
4. Jantar Mantar
5. Jaigarh Fort
6. Nahargarh Fort
7. Jal Mahal
8. Birla Mandir

How to reach:
Regular flights and trains are available from all the major Indian cities. Buses and coaches are also available from Delhi, Agra, Jodhpur and other nearby cities.
This city lies on the northern point of the triangle of desert cities. Bikaner is another royal walled city dating back to 1486 AD. It was, however, a major trade centre as it stood on the ancient caravan route which linked central Asia and North India with the Gujarat seaports.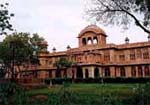 Major Attractions:
1. Junagarh Fort
2. Lalgadh Palace
3. The Ganga Golden Jubilee Museum
4. Deshnoke Temple
5. The Gajner Wildlife Sanctuary
6. Camel Breeding Farm

How to reach:
Buses and taxis are available from Jaipur, Jodhpur, Delhi, Mumbai and all the other major cities of Rajasthan.
The deserted town of Jaisalmer has a distinct charm associated that makes. Its sand-yellow ramparts rising out of the arid Thar present a mesmerizing picture.

Major Attractions:
1. Jaisalmer Fort
2. Gadi Sagar Tank and the Folklore Museum
3. Tazia Tower
4. Gadsisar Lake
5. Jain Temples
6. Havelis
7. Salim Singh-Ki-Haveli
8. Patwon-Ki-Haveli
9. Nathmalji-Ki-Haveli

How to reach:
Jaisalmer is well connected by air and rail to all the major Indian cities.
Jodhpur is at the edge of the Thar desert and is the largest city in Rajasthan after Jaipur. The city is dominated by a massive fort, topping a sheer rocky ridge right in the middle of the town. Jodhpur was founded in 1459 by Rao Jodha, a chief of the Rajput clan known as the Rathores.

Major Attractions:
1. Mehrangarh Fort
2. Umaid Bhawan Palace
3. Jaswant Thada
4. Clock Tower & Sadar Market
5. Government Museum
6. Mahamandir Temple
7. Kailana Lake

How to reach:
Jodhpur is well connected by air,buses and rail from Jodhpur to Udaipur, Jaipur, Jaisalmer, Ahmedabad and Delhi.
The city of dawn, Udaipur is a lovely land around the azure water lake, hemmed in by the lush hills of the Aravallis. Udaipur is better known as the city of lakes. It was founded in 1568 by Maharana Udai Singh II.

Major Attractions:
1. Lake Pichola
2. Lake Fateh Sagar
3. City Palace
4. Lake Palace
5. Shaelion-Ki-Bari
6. Moti Magri
7. Shilpgram
8. Bharatiya Lok Kala Mandal
9. Jagdish Temple
10. Sajjan Garh

How to reach:
Udaipur is well connected by air, land and rail to all the major Indian cities like Jaipur, Jodhpur, Delhi
The only hill station in Rajasthan, Mount Abu is more than just a summer retreat. Its stunning array of exquisite Delwara Jain Temples, dating back 11th- 13th centuries, make it a popular pilgrimage centre.
Major Attractions:
1. Dilwara Temple
2. Kesar Bhawan Palace
3. Sunrise Palace
4. Vimala Vashi Temple
5. Jain Community
6. Luna Vashi Temple
7. Nakki Lake
8. Gomukh Temple
9. Connaught House
10. Achalgarh Fort
11. Guru Shikar
12. Adhar Devi Temple

How to reach:
There are many trains and deluxe buses operating from Mount Abu to Jaipur, Ajmer, Udaipur, Jodhpur, Ahmedabad.